Frequency Malas are designed with a numerical frequency to enhance your subtle-body energies and support your life path. Shapes, colors, emotions, numbers…all of these items have blueprints of frequencies to manifest into form.
Lesley uses this concept for designing Frequency Malas so that the wearer can feel and process new information from the resonance of the design, the crystals, and the intentions used. Each mala becomes a unique piece of artwork that vibrates powerful and healing frequencies to benefit your own journey.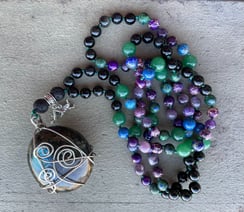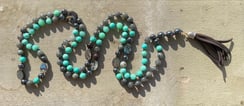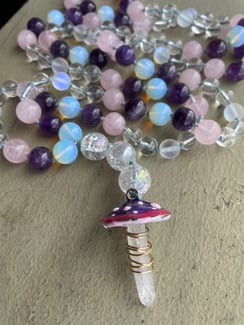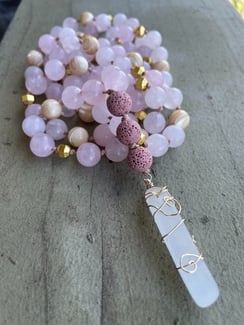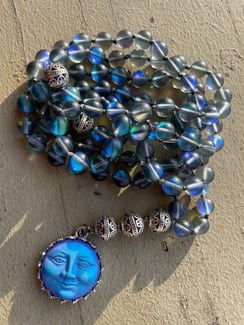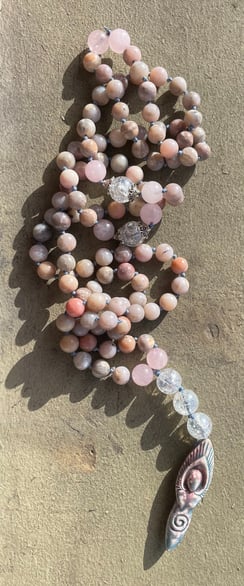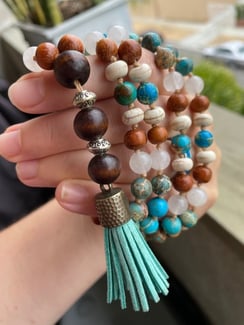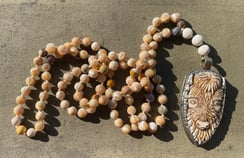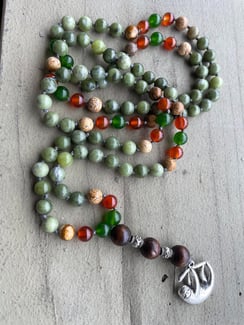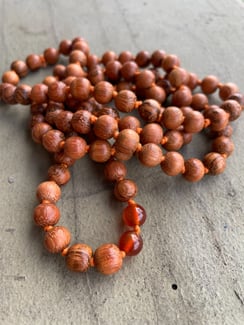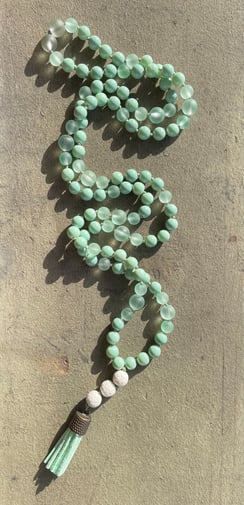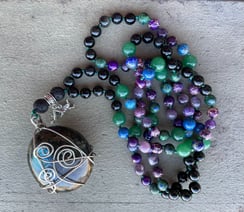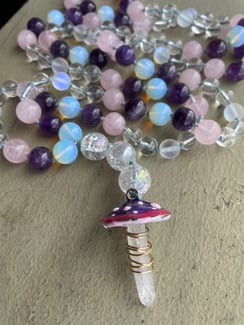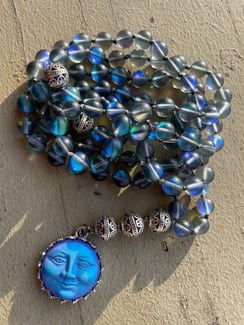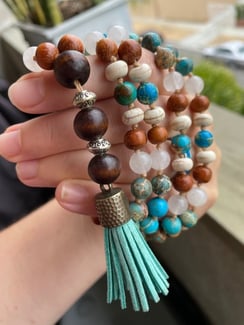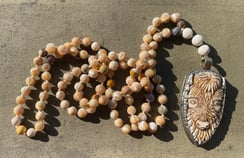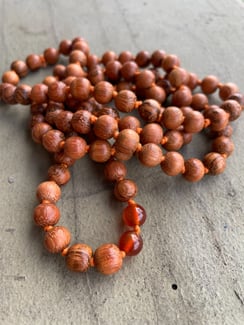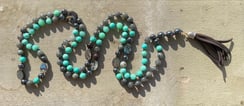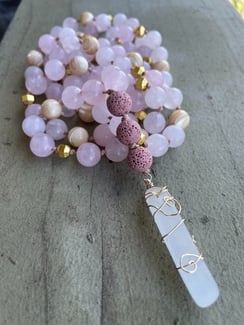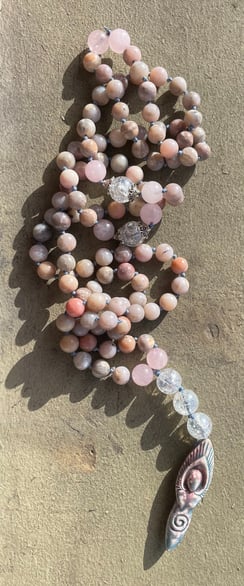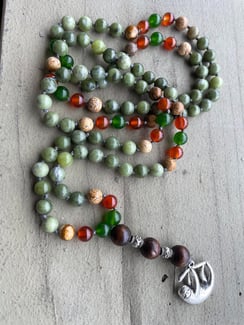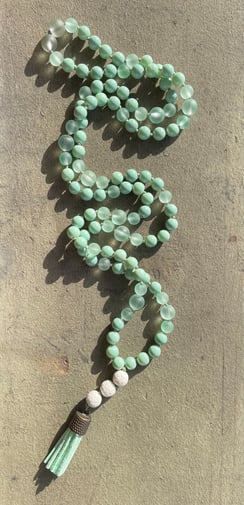 Prices range from $44 to $122 (plus tax), while all custom Frequency Malas begin at $122. Each mala comes with a pouch and a description of the crystal beads incorporated into the design.
Use it in your meditation practice, wear it as jewelry, or keep it nearby and allow the frequencies to support you on your journey!
For a customized Frequency Mala, all you need are four items:
~Name~
~Number~
~Color/Deity/or Spirit Animal~
~Intention~
These key items of information are the only ones needed to manifest your customized Frequency Mala. These custom malas begin at $122 plus tax, so once your payment is received, please allow 1 - 2 months to order materials and build your resonant gift. When your mala is completed, it's carefully packaged in a pouch with a description of the beads and materials used, and shipped off with love, where you can immediately feel its benefits.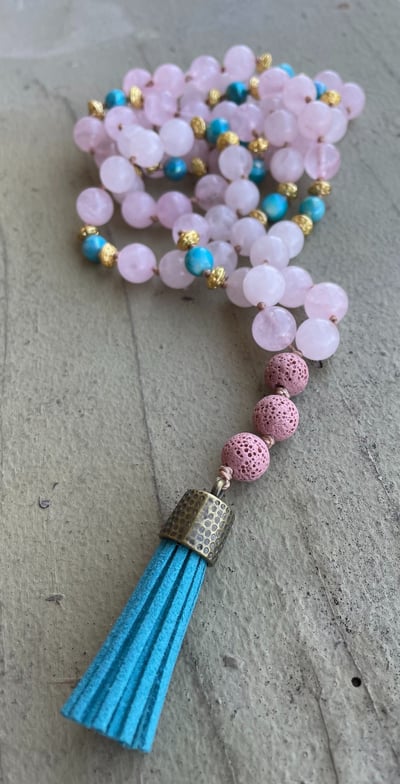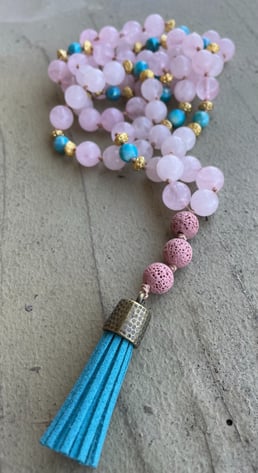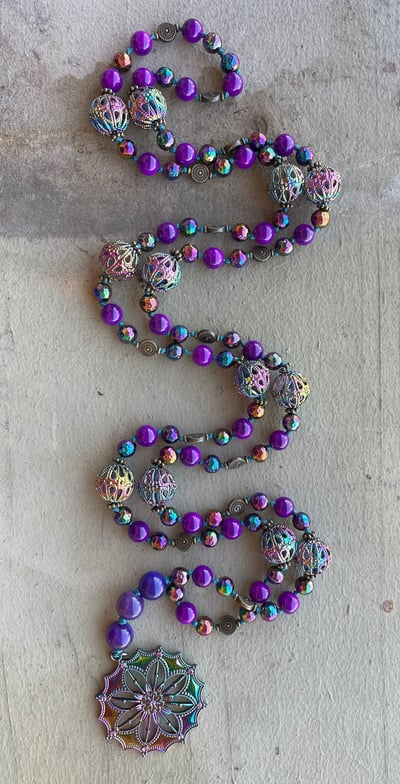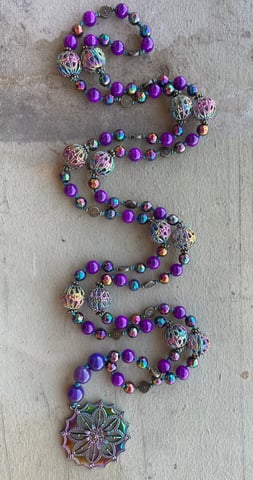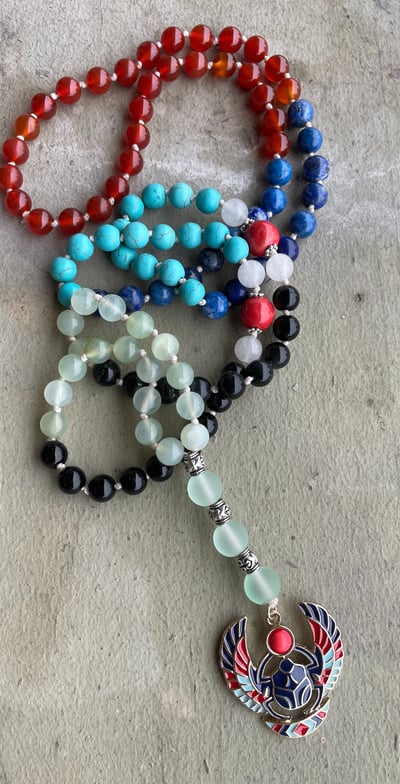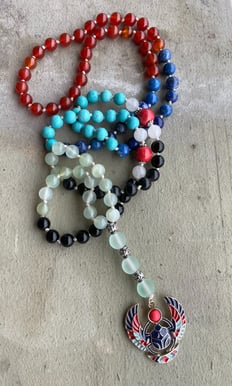 See What's In Our Inventory Below...
Heart Frequency Mala
Frequency # 4
Intention: Self-love, Balance, Forgiveness
Beads Used: Rose Quartz, Aqua Shell, metal
$88 (+tax)
Mardi Gras Mala
Frequency # 3
Intention: Festivities, Celebration, Community
Beads Used: Purple Agate, purple glass, filagree metal
$67 (+tax)
Egyptian Scarab Mala
Frequency # 9
Intention: Goddess, Intuition, Feminine Energy
Beads Used: Lapis Lazuli, Carnelian, Turquoise Howlite, Obsidian, Black Jasper, Jade, glass
$88 (+tax)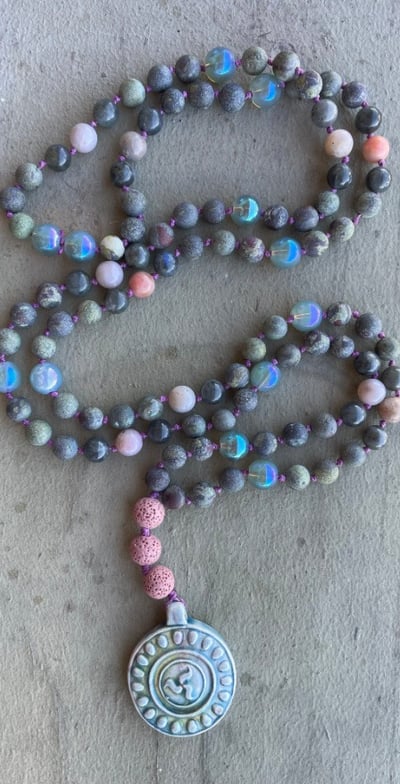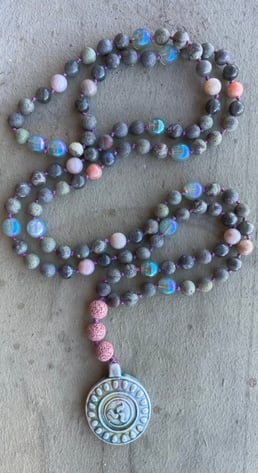 Trinal Mala
Frequency # 3
Intention: Creativity, Optimism, Self-reliance
Beads Used: Pink Lava, Pink Opal, Dragon Blood Matte, Labradorite, Ceramic & Glass
$88 (+tax)
Interested in a Frequency Mala?
Fill out the form below: